HELPS YOU MANAGE ALL YOUR
ACTIVITIES IN ONE SYSTEM
SALES • OPERATIONS • INVENTORY • ACCOUNTING
EMPLOYEES • CUSTOMERS • SUPPLIERS
PROJECTS... AND MUCH MORE

SEAMLESSLY INTEGRATES
ALL YOUR BUSINESS PROCESSES
SALES • QUOTES • ORDERS • INVENTORY • PACKING SLIPS
SHIPPING • INVOICING • COLLECTIONS • PURCHASE ORDERS
PAYMENTS TO SUPPLIERS AND MUCH MORE
Achieve Your Business Goals Through Our Cloud ERP Solutions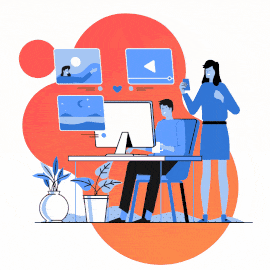 Our Cloud ERP Supports the Following Industries
We understand that every industry has its own unique business operations and needs. That is why companies today demand industrial cloud solutions that meet their goals and mission. Most business industries are rapidly adopting cloud and digital technologies, and Averiware has emerged as a beacon of hope for small and medium-size enterprises (SMEs). Averiware is a trusted business partner for many industries, including distributors, fitness and health clubs, manufacturers, wholesalers, and companies that deal with software, or ecommerce, advertising and media, agriculture, or service, that seek to make the shift from conventional methods to modern processes. With Averiware, you get access to all the cloud ERP software modules to use as you need, unlike other offerings.
Specialized Cloud ERP Software Features
Cost-effective Cloud Migration Service Plans
Standard Plan
The smart package for Standard level startups and growing companies with the tailored features that do more and need more.
Includes 5 Users, per Month
($49.50 for Additional Users/month)
The best suitable package for Professional level businesses with the customized features that improve operational efficiency.
Includes 10 Users, per Month
($49.50 for Additional Users/month)
The perfect package for Enterprise level businesses with powerful and suitable features that boost your business processes.
Includes 20 Users, per Month
($49.50 for Additional Users/month)
Get Updated with Our Latest Posts
Despite the fact that e-commerce solved a global need to acquire products, even services, without risking contagion businesses had to rapidly transform. For this reason, regardless of the industry to which it belongs, all companies are technological. It is important to [...]
Investing the proper resources in project management is important for service companies. A good cloud-based project management system will help service companies streamline their operations and get jobs running through their shop more smoothly, with fewer hiccups and delays, meaning [...]
Entrepreneurs know that the best startups are built as lean, efficient operations. Working to maximize the potential of a new idea with as few resources as possible, startups of all sizes require the ability to remain organized yet nimble in [...]
Why Averiware Cloud Solutions?
Averiware is an innovative software development company providing comprehensive business management solutions for small and mid-sized businesses. We have operations spread over USA, Canada, Europe, and South-east Asia, and development centers based out of India and Singapore.
We at Averiware strive to change the way every business works and have deployed business-specific cloud ERP systems at many enterprises and SMEs. We have proven expertise in implementing industry-ready cloud solutions with tailored features that help in overcoming business challenges and leave no aspect of your business operations uncovered. Our cloud ERP software systems have successfully migrated with many business industries around the globe and are still running without facing problems.
Our cloud solutions goal is to help small and mid-sized enterprises manage all of their business processes – including finance, sales and service, Web presence and employee management – more efficiently. Companies can save time, money and resources and get unprecedented visibility into their operations by utilizing one centralized cloud ERP system.
Book a Free Cloud Software Demo
Tell us more about your business, we will personalize your needs as you expect.